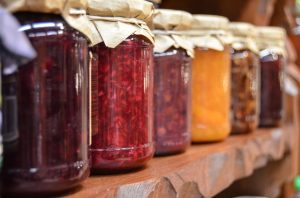 Food Preservation Publications Order Form
Bulletins may be picked up at the Clark County Extension Office, ordered by mail, or accessed online at learningstore.extension.wisc.edu.
Food Preservation Facts & Recipes
For a Fresh Taste of Summer Year Round, Try Freezing Garden Produce
Yields for Canned or Frozen Fruits and VegetablesDelicious Frozen Corn Year Round
5 Tips for a Successful Home Canning Season
Ensure a Healthy Harvest
Pressure Canners Are Not the Same as Pressure Cookers
Add Acid to Tomatoes When Canning – Here's Why
Using Clear Jel ®
Making Safe Jerky in a Home Dehydrator
Recipes for Beef or Venison Jerky
Preserve It Fresh, Preserve It Safe Newsletters
A newsletter for those who preserve food at home.
For more interesting topics about canning visit University of Extension – Missouri
Web ResourcesUW Food Safety and Health
Information on food safety and health from the UW of Madison.
National Center for Home Food Preservation
The National Center for Home Food Preservation is your source for current research-based recommendations for most methods of home food preservation.
Safe and Healthy: Preserving Food at Home
A blog with information about safely preserving food at home by Barb Ingham, UW-Extension Food Safety Specialist.