For more information on the Wisconsin Master Gardener program check out the following link:  WI Master Gardener
If you would like to join the "Over The Garden Gate" group or would like more information please contact Linda Schultz (see link below).
New members are always welcome!
Meetings are held the 4th Monday of each month at the Clark County Courthouse in Neillsville (unless noted).
Next Over the Garden Gate Meeting is:
(The last Monday of each Month)
Monday, September 27, 2021
6:00 p.m.
Courthouse Auditorium
517 Court Street, Neillsville
Over the Garden Gate Officers:
Linda Schultz, President / lowlinschultz@yahoo.com
Pete Dejno, Vice President / pdejno@hotmail.com
Judy Vine, Secretary / judylucksusy08@gmail.com
Christine Keller, Treasurer / kellerama00@gmail.com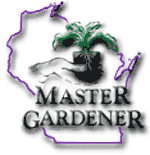 Judy Vine, Historian / judylucksusy08@gmail.com
Christine Keller, WIMGA Local Rep Contact / kellerama00@gmail.com